The sole factor that determines the potency and efficacy of any pharmaceutical medication is balance of their chemical constituents and their molecular stability, which only if perfect, does show its effect by alleviating the symptoms of illnesses and provide relief. Seeking to provide refined versions of medications with the aforesaid traits, NIMP Healthcare Pvt. Ltd. provides a highly sought after range of pharmaceutical drugs, intermediates, inorganic bulk drugs and fine chemicals, that are famed for their pristine chemical composition and class leading potency. Based in Ankleshwar region of Gujarat, we have a cumulative industrial experience of more than two decades and deal in pharmaceutical products such as Lamotrigine, Cis-Bromobenzoate, Metoprolol Succinate and Itraconazole to name a few.

Range of Products

NIMP Healthcare Pvt. Ltd. offers an expansive range of highly potent and effective pharmaceutical drugs and intermediates that are famed for their perfect chemical composition. Mentioned below is the entire gamut of products we offer:
1-Aminopiperidine
1,2-Benzisoxazole -3-ACETIC Acid
1,2-Benzisoxazole- 3-Methanesulfonic Acid Sodium Salt
3-Bromomethyl- 1,2-Benzisoxazole
Atenolol
Carboplatin
Cis-Bromobenzoate
Cis-Tosylate
Cisplatin Oxcabazepine
Triclabendazole & Intermediate
Itraconazole & Intermediates

Lamotrigine
Metoprolol Succinate
Metoprolol Tartrate
Ketoconazole & Intermediates
Oxaliplatin
Piperazine 1
Piperazine 2
Zonisamide & Intermediates
Gemcitabine
Itraconazole
Company Details
| | |
| --- | --- |
| Year of Establishment | 1994 |
| Nature of Business | Manufacturer, Exporter and Supplier |
| No. of Production Units | 1 |
| No. of Employees | 100 |
| Production Type | Semi-Automatic |
| Yearly Production Capacity | 200 metric tonswal |
| Niche Market | India |
| Company Registration No | 24211300702 |
| Warehousing Facility | Available |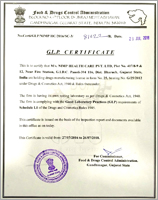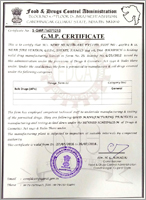 Contact Details
NIMP HEALTHCARE PVT. LTD.


Bharuch, Panoli, Gujarat, India
Mr. Mahaveer Chopra (General Manager)
Mobile : +919825039736, +919825439736
Mr. Neel Sandeep Shah
Mobile : +918652434646




NIMP HEALTHCARE PVT. LTD. All Rights Reserved.